EXCITING NEWS!!!!!!
I have been hanging out to write this blog post about the recent Rise International Photography Awards I entered.
I have lots of exciting news to share from them! Photographers from all over the world entered these awards into several different categories including Maternity, Birth, Newborn, Baby, Wedding and Portrait.
I decided to enter into the Birth, Newborn and Baby categories. Proud to say that I was announced a finalist in the birth category! Yay! I was super excited about that!
I had to wait a week to see the live judging for the Finalists in all the categories to find out what my image was scored.
In the initial round of scoring I managed to snap up 3 Bronze awards for my Birth, Newborn and baby entries also.
This is one of my first awards to be awarded with a Bronze. This is the C-Section birth of Enyinnaya which I absolutely love so much!
I captured the whole story of Enyinnaya from Maternity, then birth then his Newborn session.
This image scored 75.
This is my second award that was entered into the Newborn Category. This image means a lot to me and is of little Arthur I captured his birth back in April when he put his mum into preemie labour at 35 weeks. Weighing a tiny 4lbs being admitted to hospital not long after he was discharged due to different breathing issues. We finally got to do his Newborn session at about 6 weeks and he had to have oxygen on, I loved the story behind that. So I created this image of Arthur snuggled into his parents arms. Scoring not far off a silver award at 77.37 (Silver is 80-89) so it was awarded with a bronze.
Next award is the gorgeous little Isabelle I captured at 9 1/2 weeks old. This whole session was really hard work as she didn't want a bar of sleep. Then we struck this magic so perfectly. This image scored 77.67 so another one that almost scored silver but only missed by 2 points. So close!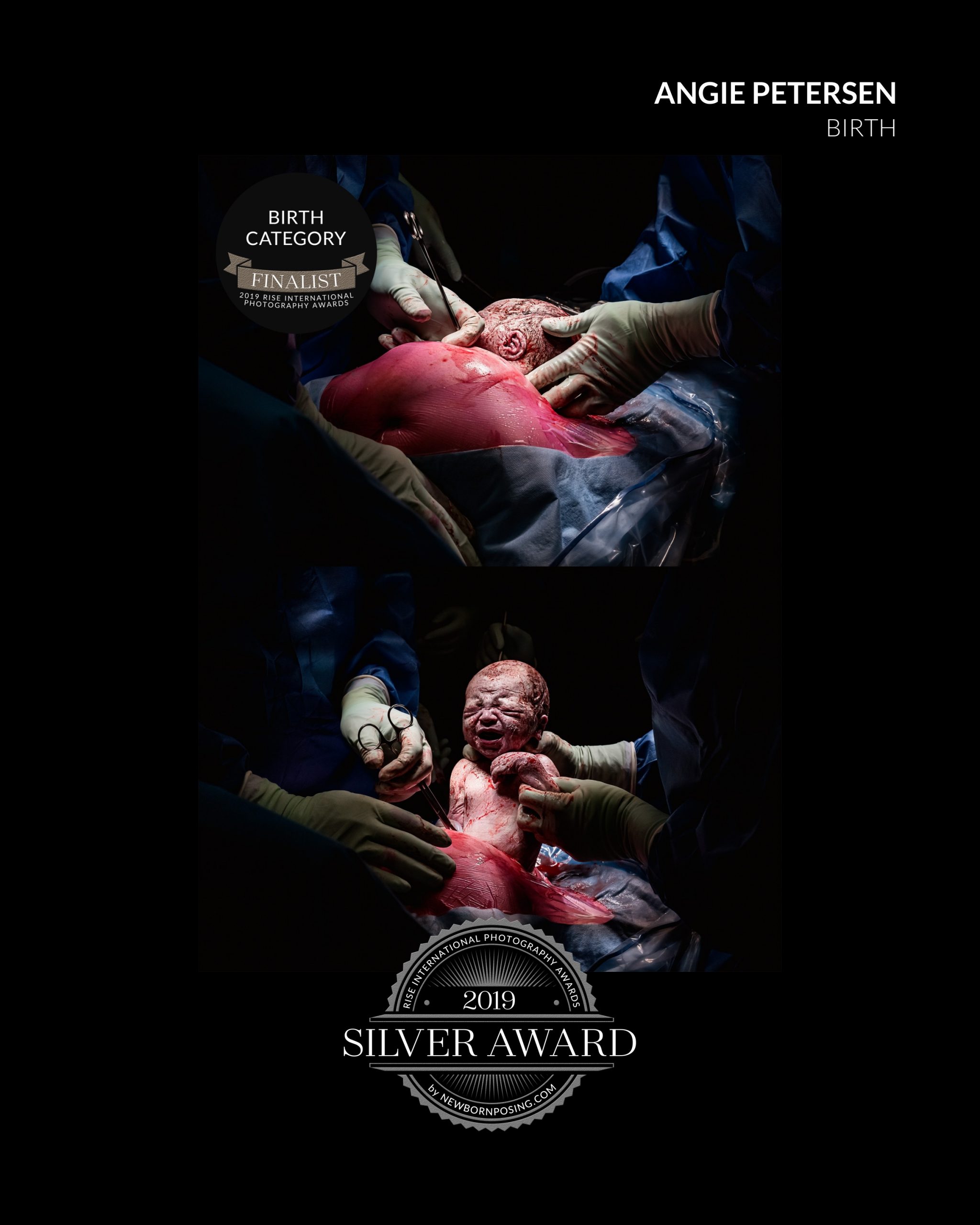 Then here is the best part of all! This image is of the C-Section of little Jasper at St Vincent's Private Hospital, Toowoomba.
Dr Chattle was such an amazing Obstetrician that dropped the drape early as said are you ready? before pulling Jasper out of the womb.
So I managed to grab this amazing series of images to enter. So not only did these get awarded it got me into the Top 20 Finalists of the world in the Rise Awards! How incredible is that? At the live judging it scored a Silver Award but I still didn't know where I placed in the Top 20 Finalists.
We were invited to an Awards night on that Friday night to find out the results. Well I missed the top 3 spots by guess what??? 1 point! 🙁 So instead I got number 4 in the world which is pretty bloody incredible either way so I am so proud! Thank you so much to Sally and Ryan for allowing me to enter these images and to all my other clients for letting me enter the rest also.
Below are some of the party images at the Rise Awards night! It was such an amazing night out partying with Kelly Brown who is my idol in photography.