I asked Gemma if she could write a story about her pregnancy journey with Olivia. I thought it would make a great blog post for new mums to understand the process of pregnancy and birth and a bit about what Birth photography is all about with Desire To Inspire Photography. So here is Gemma's story from the birth of Olivia Rose. She was born on the 18th October 2014.
"When I gave birth to my first daughter Charlotte, I was not at all interested in birth photography. I even hesitated when my birth partner asked me if I would like her to take some photos. I remember her saying, "if you don't like them, you can delete them but we can't retake them." I birthed my first daughter Charlotte Louise at 32wks. My birth partner only took one photo of Charlotte crowning, but then permission to take photos was refused, as Charlotte went into distress.
A little while after Charlotte was born, I stumbled across some birth photography. I was amazed how discreet the images were. After seeing professional birth photography I had my mind made up, next baby I would hire a birth photographer.
When it came time to have my second baby I started to look around and enquire. I spoke to a few photographers; some professional and some that do it as a hobby. One photographer's work really stood out! And that of course was Angie's. When I met with Angie at her house to discuss packages and pricing, she treated as a friend and I felt very welcomed by her. Throughout my pregnancy our friendship grew and I feel honored to now call her one of my close friends.
The birth story of Olivia Rose Johnson started a lot earlier then the day of her birth. From 29wks we had a trip to the hospital nearly every week including 3 hospital transfers and 5 threatened premature labours. Miss Olivia was in a hurry right from the start.
Once I hit full term she decided she was nice and comfy right where she was. Nothing I tried would budge her. Until the night before I was to be 39wks. I walked out of the toilet and Ray remarked on how big my belly was and it looked different. I noticed it too and I had that gut feeling that that Friday night was going to be the night.
Early hours of Saturday morning I woke up but wasn't sure why, I didn't need to go to the toilet so why was I awake. Then I had that moment of realization, I had just had a contraction that woke me. I look at the time and it was 2am. I decided to wait and see if they progressed. Within 1/2hr they were 7 minutes apart and lasting 1 minute so I called my midwife Coral but it was her weekend off so the call transferred to the on-call midwife Trish. She suggested I go to the hospital to be assessed. When I arrived at the hospital I was only 3cm dilated and my contractions were too inconsistent so they said I could either stay to see if they progressed or I could go home. I decided to go home so Ray could sleep in case I did go into labour.
By the time we got home it was around 4am. I was still contracting so I decided to have a quick shower. The shower helped somewhat but I could only have a short shower as we are on tank water. I tried to lie down again but my contractions were becoming too painful. Ray timed my contractions but they were still very irregular, ranging from 30 seconds apart up to 4 minutes apart and lasting around 1 minute. We decided that we would go to my Grandmas house as she is on town water so I could sit in the shower. Just before we were ready to leave Ray thought we should call Trish again as I was in quite a lot of pain. While she was on the phone she heard me in the background have a contraction and said we should probably go straight to the hospital so we did.
By the time we got to the hospital it was 7am and I was barely able to walk so the Dr. from ED took me around to maternity while Ray parked the car. When I got to the maternity ward I was observed and told exactly what I knew, my contractions seemed too irregular but they did an internal anyway, which to their surprise I was now 6cm dilated! I was in labour… FINALLY!
At 7.30am we called Angie to tell her she needed to head to the hospital. I was asked if I would like to get in the bathtub so I did. I had a few contractions in the bathtub but then came one that was different. It made my physically sick and even my cry sounded different. The team midwife Virginia told me I needed to get out of the bathtub as soon as I could. Angie arrived by 8am. When she walked in the room I said to her "Hurry up Ange!" because I wanted just one photo of me in the bathtub. After she captured a photo or two, I was help out of the bathtub by Ray and Virginia and was helped down onto my knees. I recall Virginia saying, "OK Gemma, we are about to have a baby" to which Ray replied "What! Now?" and Virginia replied, "yes now".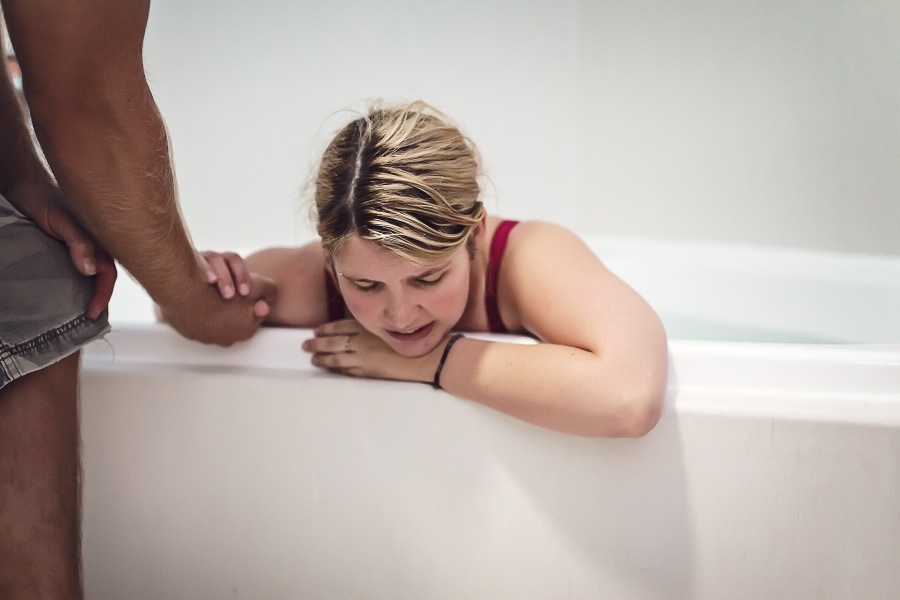 Then Trish arrived and I remember the first thing I asked her was if my midwife's Coral and Sam would be coming but unfortunately they wouldn't be. While I was still knelt in the bathroom Trish tried to find baby's heartbeat but was unsuccessful so I had to move positions.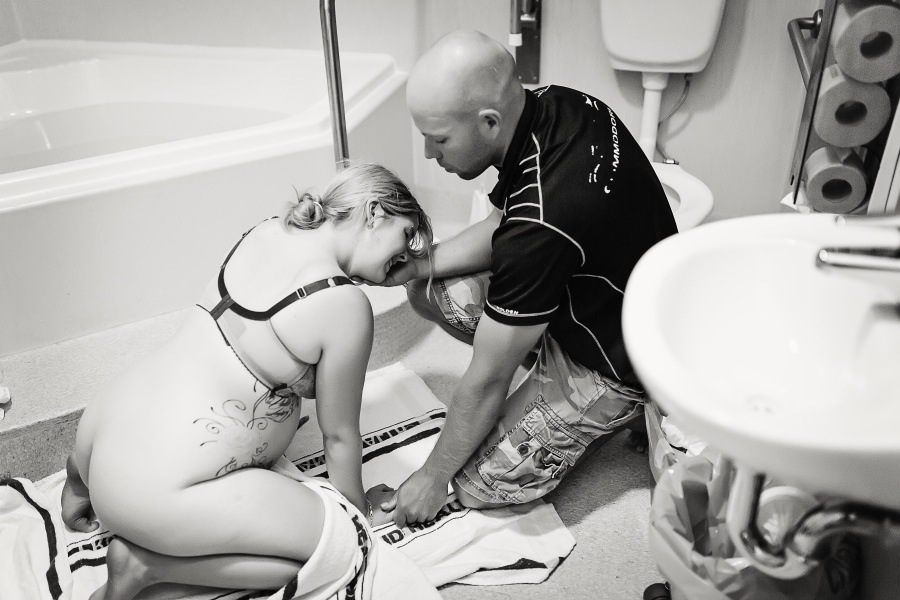 I was moved out of the bathroom and laid on my back on the floor. They found her heartbeat easily once I was on my back but it made my contractions almost unbearable so I then go up on my knees again leaning on Ray while he sat on the couch. I remember feeling every little part, the moment my waters burst every inch further down she moved, when her head what finally out and when the moment she was born.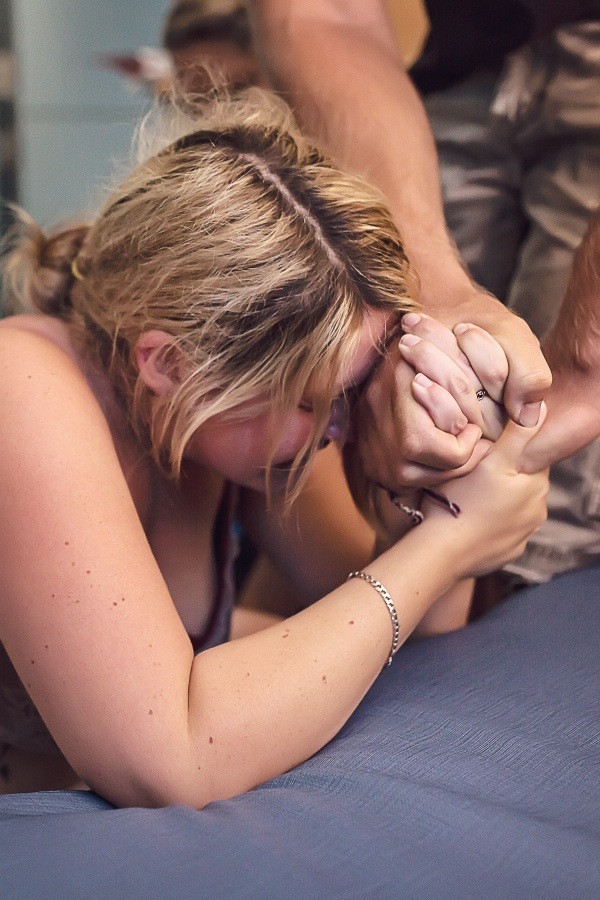 At 8.29am only 1/2hr after Angie arrived I gave birth to my daughter, this was the moment I found out that I had carried a little girl for the previous 9 months.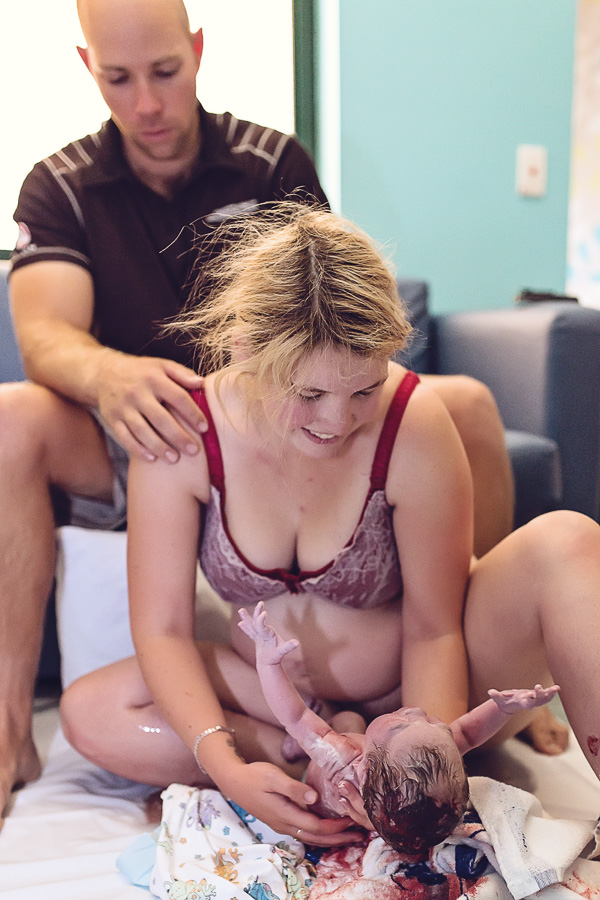 Throughout the pregnancy we couldn't make our mind up on a name, we were stuck on a couple. About 15 minutes after she was born I turned to ray and said, "I think she is an Olivia" and he agreed. Olivia Rose Johnson. I sat with Ray holding our brand new daughter for around 1.5hrs while we did delayed cord clamping, Ray cut her cord and she had her first feed. She was then weighed and measured, 3290gm/7lb 4oz, 50cm long with a head circumference of 35cm.
When she came back, I gave her to Ray so he could officially meet his first child, his daughter. I was then taken for a shower while Ray bonded with Olivia.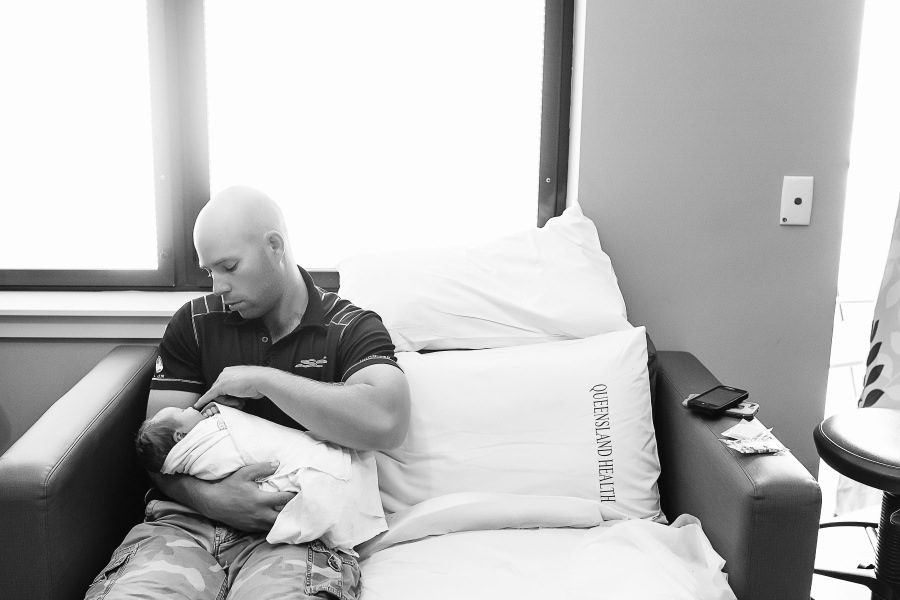 After my shower it was time to go to our room. We called my grandma and asked her to bring Charlotte to meet her new little sister. When charlotte arrived she had a look of excitement I have never seen before. Angie stayed a little while longer to take a few first family photos.
When I went into labour I got cold feet about having Angie there but I didn't say anything to anyone. I was scared I would labour different or I would act different because I knew she was there taking photos. I am so glad I didn't say anything to anyone though. Angie was like a ghost. I did not realize she was there after I had said hello to her. She did not interfere or make herself known at all. She was very discreet as she moved around me to take photos and most of the photos I did not even know she captured until I saw sneak peeks, our birth video and our birth story blog. Even after Olivia was born she still kept herself very discreet, she would speak to us when we spoke to her, otherwise she was just like a shadow in the room with a camera taking photos. This means we have irreplaceable photos that are, as we would have naturally be acting during labour and after giving birth. Even though Angie and I are now good friends the moment she walked into that birth suite she was nothing other than professional and did her job as she would for a stranger.
I would like to take this opportunity to thank everyone who was in the room while I entered Olivia into this world. I was quite upset when I realized I probably wouldn't be having Coral and Sam as my midwife's. I was uneasy when Virginia first came into the room simply because I had not met her before. Virginia and Trish were an excellent team and aside from having Coral and Sam I could not have asked for a better team. During the last stage of labour I was not listening to anything, I was just concentrating on getting Olivia out. When Virginia told me to do something different and I didn't hear, Trish was right next to me telling me again so I heard what I needed to do. Although two of the people I planned to have in the room didn't make it on time, they still made the effort to be there after Olivia was born and they were my student midwife Courtney and my best friend Kate. Thank you very much Kate for bringing me the red frogs and ice coffee because you thought I'd need them after giving birth.
Thank you to Angie for capturing our special day so we have these irreplaceable memories to keep forever and for being so professional throughout my entire labour. But my biggest thank you has to go to my biggest support from the day we met. Ray and I have been through a lot of down times in our short time together but he has never once thought about running away. The day we welcomed Olivia into the world was certainly no exception. From the moment I woke him that morning he waited on my hand and foot. He did not hesitate when I asked him to do something whether it was to heat the wheat pack or call someone. He did not leave my side the entire time. Every contraction he was there with me holding my hand when he could and if he couldn't, he had his hands on me so I knew he was there supporting me. He was very calm the entire time.
Thank you for taking the time to read our birth story of Olivia Rose Johnson :)"
Gemma Webster
Thanks so much Gemma for taking the time to write out your story for everyone to see. Its a remarkable journey you were on and now you have your beautiful bundle of joy with Olivia Rose 🙂