So you've booked in a photography session and it's getting closer by the minute, you have no idea what to wear!
The tricky part, making sure everyone's outfits compliments each other.
Now I'm not saying I'm the most fashionable person to set an example but I know what looks good in photos. From recent experience having my own family photos done I know the feeling of wanting it to all be perfect. After being in the industry a long time I have got to know what is good and what is not. I'm happy to offer some simple suggestions to ensure your photos are absolutely stunning.
Here's a list of 'Not to do's" to get that out of the way.
Don't go back to the nineties and wear denim and white for everyone in the family. In fact steer away from matching anyone at all. Instead focus on choosing outfits that compliment one another (both in texture and tones). I'll show you some examples below so you know what I mean.
Please do not wear anything that contains big logos or pictures on the front of them. These will be distracting and will take away from the timelessness of your images. We want the attention on your faces right?
One other thing that most don't know. Try not to wear dark bold colours like black or plain white tops as they can sometimes dominate the images. This means the images won't be as aesthetically pleasing to the eye than is ideal. Especially if you are hoping to hang on the walls. The black doesn't apply for in studio photos when we use a black background. In that instance then black or bare skin (guys) is best due to the lighting we use.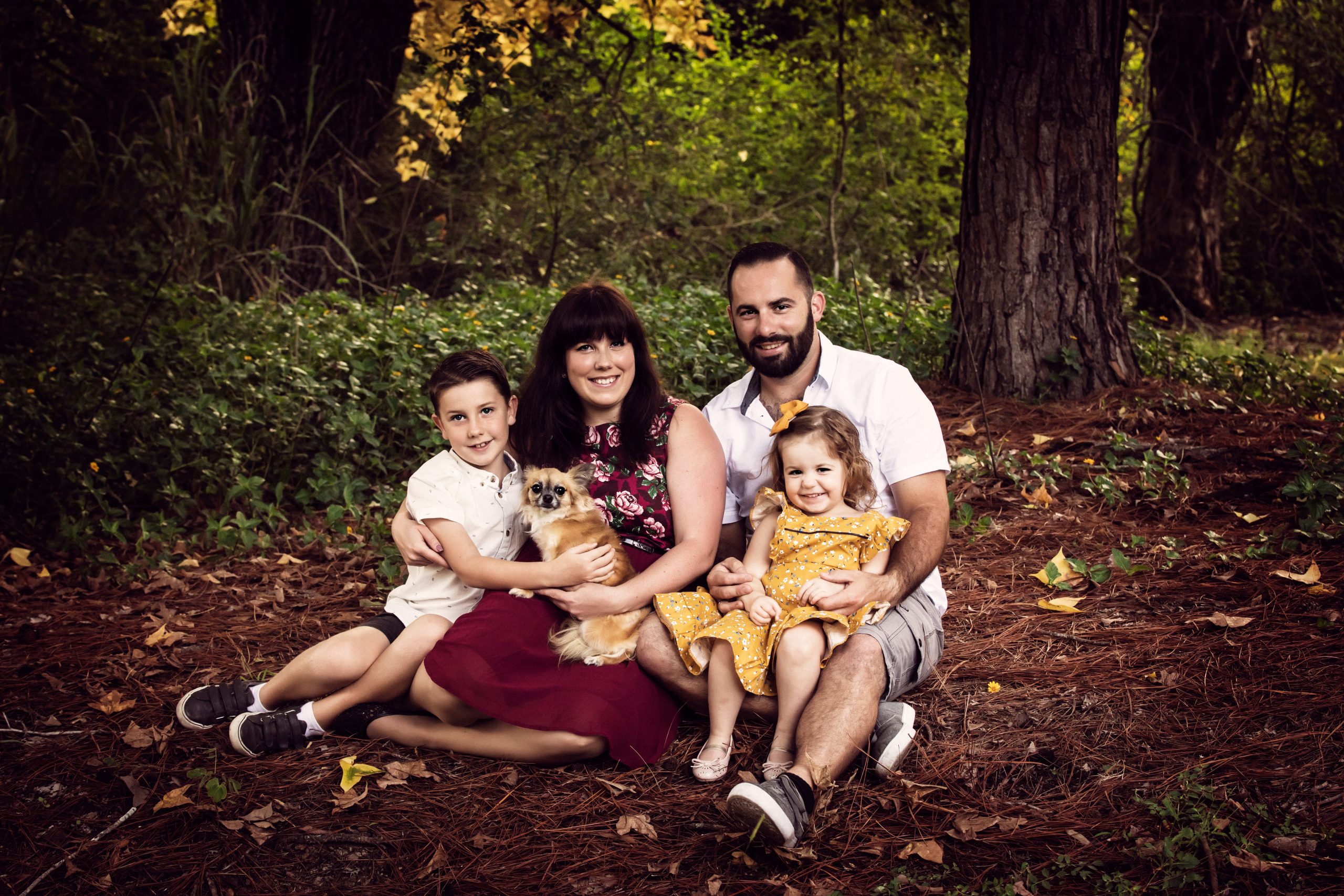 Exception to the white rule is babies-
If you've just brought a new baby home then photographing them in a classic white onesie or singlet with a nappy will always be timeless and beautiful. White won't be distracting and will draw attention to their beautiful soft baby skin and can always be complimented with coloured wraps or a blanket or other items to add texture and interest.
So with all that in mind, WHAT SHOULD WE WEAR?
1, soft or natural tones, such as pastels, neutrals or muted tones will always photograph well.
2, Earthy tones are fantastic and look great in camera and on the walls. This includes rich colours such as burgundy, burgundy, deep greens, shades of blue and mustard. Pops of colour can also work well to create a captivating image.
3, Varied textures in your choice of clothing are great ( think denim, wool, linen, corduroy, cotton) and then layering them is fantastic ( such as scarves, beanies and vests if weather allows)
Now with this all said, ensuring the kids (and you!) are comfortable is most important, so let that be your best guide.
Try to select clothing that is soft, warm, and allows the kids full mobility and freedom to move – because moving kids are happy kids. : )
Ultimately, what you wear will not matter.
If I come to your home and your toddler's in a nappy and your son is refusing to put on a shirt, those are going to be stunning pictures (in fact, please wait for me to arrive to dress them – I adore capturing wardrobe changes and if I live to be a thousand I will still have never seen enough toddler belly buttons or delicious baby rolls!).
What we're striving for when I come to tell your family's story is authentic, real connection.
And we will get that regardless of what you're wearing.
If you'd appreciate some help and guidance though, please sing out and I can help guide you to what will look good.
Check out my website at other sessions, they' give you some ideas, and will allow you to see how important clothing can be in shaping the mood and vibe of a session, as well as the way it comes together as a body of work or collection.
Enjoy, and as always if you have questions don't hesitate to reach out – I always love a chat. 🙂
Want to book in your session today?
We would love to capture a lifetime of memories for you and your family today!